SPECIES Morpho uraneis eugenia label
ORIGIN Peru / Brazil
FRAME 20x20xD5cm Made from recycled products.
DESCRIPTION Metallic blue colouration on this beautiful morpho. The name honours Empress Eugénie, the empress consort, as the wife of Napoleon III.
The male resembles the generally known Morpho aega, but the blue is duller and lighter. Colour hue alters on angle of frame as with most Morpho species.
RARE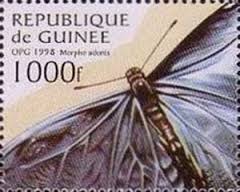 COMES IN RECYCLED CARDBOARD GIFT BOX