SPECIES Eunica sophonisba agele
ORIGIN Peru
FRAME 14.5x14.5xD5cm Made from recycled products.
DESCRIPTION AKA Glorious Purplewing. Beautiful brush-footed butterfly from the family Nymphalidae. This small butterfly has the most striking colours of marbled orange black and metallic pale blue on the verso of the hindwing. The upperside shown in this frame is a vast contrast from the back. This is a delicate royal blue / purple metallic colour. It is found in the lowland forests and feeds on rotting fruit.
Not often stocked. Limited supply.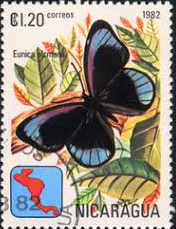 COMES IN RECYCLED CARDBOARD GIFT BOX