SPECIES Thysania agrippina
ORIGIN Peru
FRAME 21.5x28.5xD5cm Made from recycled products.
DESCRIPTION AKA White Witch, Gavilana ( the Hawk ), Ghost Moth, Giant Agrippina, Great Grey Witch, Great Owlet Moth, Birdwing moth or Strix Moth.
Local cultures are of the belief that this Moth carries the souls of the dead on its wings. Beautiful moth.
Thysania agrippina (Cramer, 1776)
thysan, -o, =us (G). A fringe
agri, (G). Wild, fierce
pinna, (L). A wing
Family Noctuidae
With a wing expanse of up to 30cm this moth is known as the worlds largest moth. It is found from Southern Mexico and south to Peru and is often seen flying around lights at night. The wing colours vary greatly and range from a creamy white color, but can also be a light brown to creamy grey. Black and brown lines zigzag across the moths long wings, giving it a fairly regular pattern. Their coloring and patterns help the White Witch Moth blend in to the trees in its' tropical environment, camouflaging them from predators, which are mostly bats. The underside of the White Witch Moths' wings are a violet-black with white markings and spots. It is noted also as having long spurs on its legs.
Our specimens are large and A1 quality.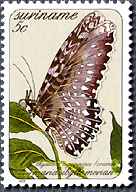 COMES IN RECYCLED CARDBOARD GIFT BOX