SPECIES Antheraea polyphemus
ORIGIN North America
FRAME 16.5x16.5xD5cm. Made from recycled products.
DESCRIPTION AKA Polyphemus Silkmoth. It is named after Polyphemus, the giant cyclops from Greek mythology who had a single large, round, eye in the middle of his forehead (Himmelman 2002). The name is because of the large eyespots in the middle of the hind wings.These moths can be hand reared and they can produce a very pretty silk, light tan in color and very shiny and strong. When threatened, adult polyphemus flip the front wings forward and also often flap the wings exposing the large hind wing eyespots -- possibly to startle potential predators. ( http://entnemdept.ufl.edu )
This is a stunning looking moth.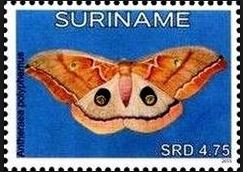 COMES IN RECYCLED CARDBOARD GIFT BOX